We have enhanced the Hyer platform to include skilled labor! 🙌 What does this mean for you? This means you can enhance your profile to include your previous work history to make yourself stand out and let the Customers know all about your amazing experience!
We now have three different task types, and each task type will have different requirements. The picture below shows that the 'Shopper' task requires prior experience to apply, so you would need to make sure that your experience is listed for this in your profile. If you were to click on the task, it will open up and go through all requirements.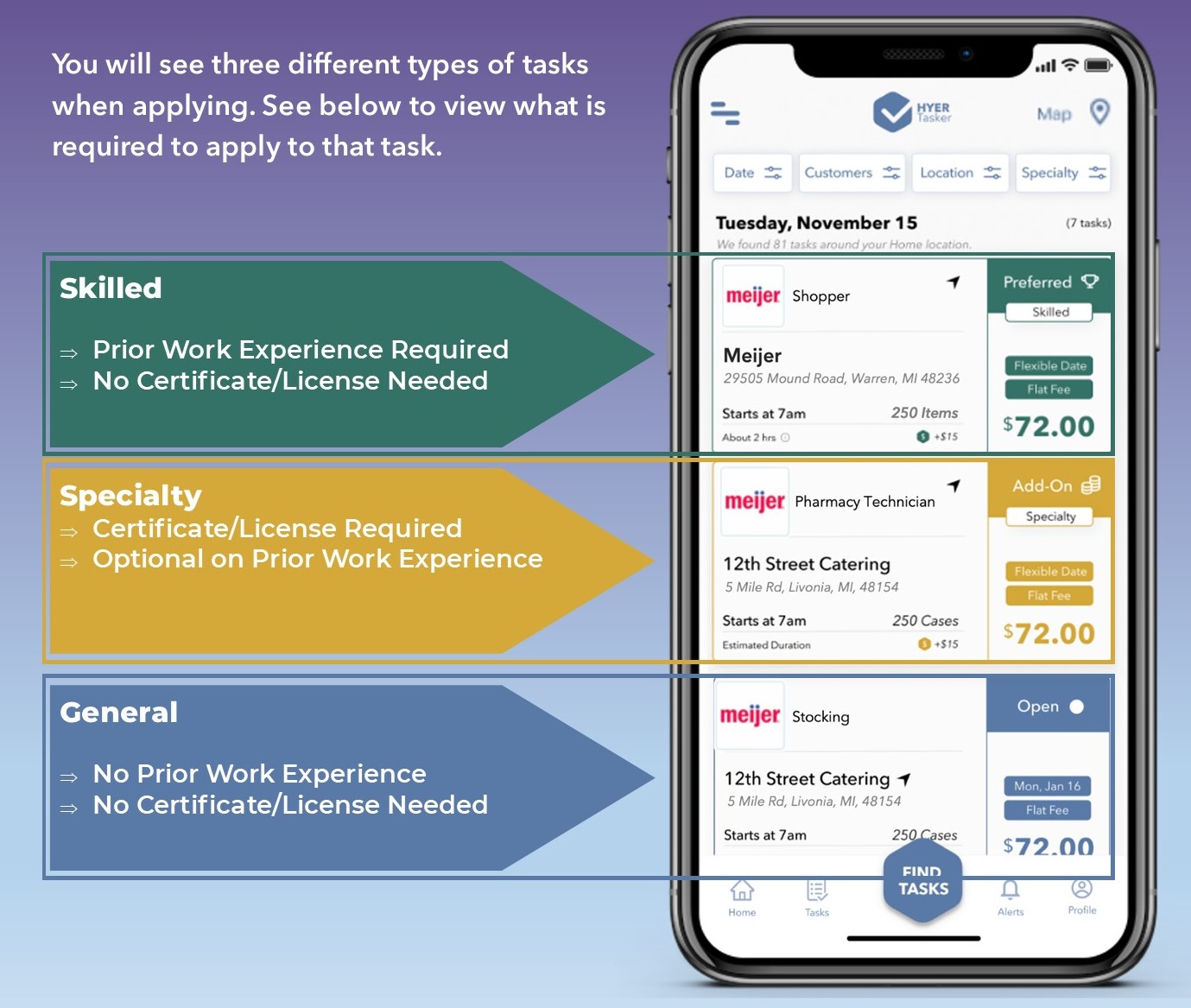 Here are some other things you will notice on your profile or things that a task may require.
Certificates/Licenses:

Some examples of this could be Military (veteran), Commercial Driver's license (CDL), or a Food Safety Specialist (ServSafe Certificate.)

Assessments/Acknowledgements:

An Assessment is normally taken before you can apply to a task. Generally comprising of several questions, videos, and information about how the task should be performed.
An Acknowledgment would be an agreement you would need to review and ensure you are okay with before being able to apply to that task.

Achievement Badges:

These badges are assigned by the Customer at the time of rating the Tasker (for example, 'Stocking Specialist') or automatically by Hyer based on some achievement criteria (for example, 'Gold Tasker')

Specialized Skills:

An example of this would be Cake Decorators, Shoppers, Product Demonstration specialists, Server, Bartender, Hostess, Cook, etc. These show up by either completing a task that has that skill attached to it or by updating your work experience in your profile.
When you click a task to view the requirements, it will show you what skills, assessments, or certifications are needed to apply. If you see a gold circle, you either do not have that requirement met or haven't finished the process to earn what is needed to apply to that task yet.