What is a Dispute?
A Dispute is a request to have a review done of payment you received for a specific task.
How does a Dispute work?
Once a Dispute comes through the system, it is turned over to the appropriate party to investigate it. Investigating a dispute includes reaching out to the store, if applicable, to confirm that the task was completed correctly. Hyer will work with the Customer to confirm the work completed or what the payout should be.
Once Hyer has concluded their investigation, based on the findings, we will communicate the final decision to the Tasker.
📌 Note: The quality and accuracy of how a task is completed may be why the payment is different than expected. Hyer cannot force any Customer to payout for a task that was not complete or completed to the Customers standards.
What can I do to avoid having to dispute a task?
Arrive on time. ⏰

Read all of the task's detailed instructions. If you have questions, be sure to ask the manager on duty or ask via the

in-app chat (if a supervised task.)
If your task requires a survey, carefully review and submit all required fields in the survey.

Be sure to submit all pictures or surveys as soon as possible, if applicable to your task.

Complete the task as stated in the instructions.

Understanding the difference between an

Hourly vs. a Fixed/Flat Fee

task.

Check-In and Out with a manager and take note of their name. If applicable, make sure you sign in/out and note the correct time of signing. (note that some tasks are unsupervised, and there may not be a manager on site.)
How do I Dispute a Task?
Click on the Tasks icon at the bottom of the app. From here, you will need to select the Archived option to find the completed task. Review the information and select 'Dispute This.' Then you will need to comment on why you are disputing this task. Include all relevant information that may help Hyer when looking into your inquiry in the comment notes.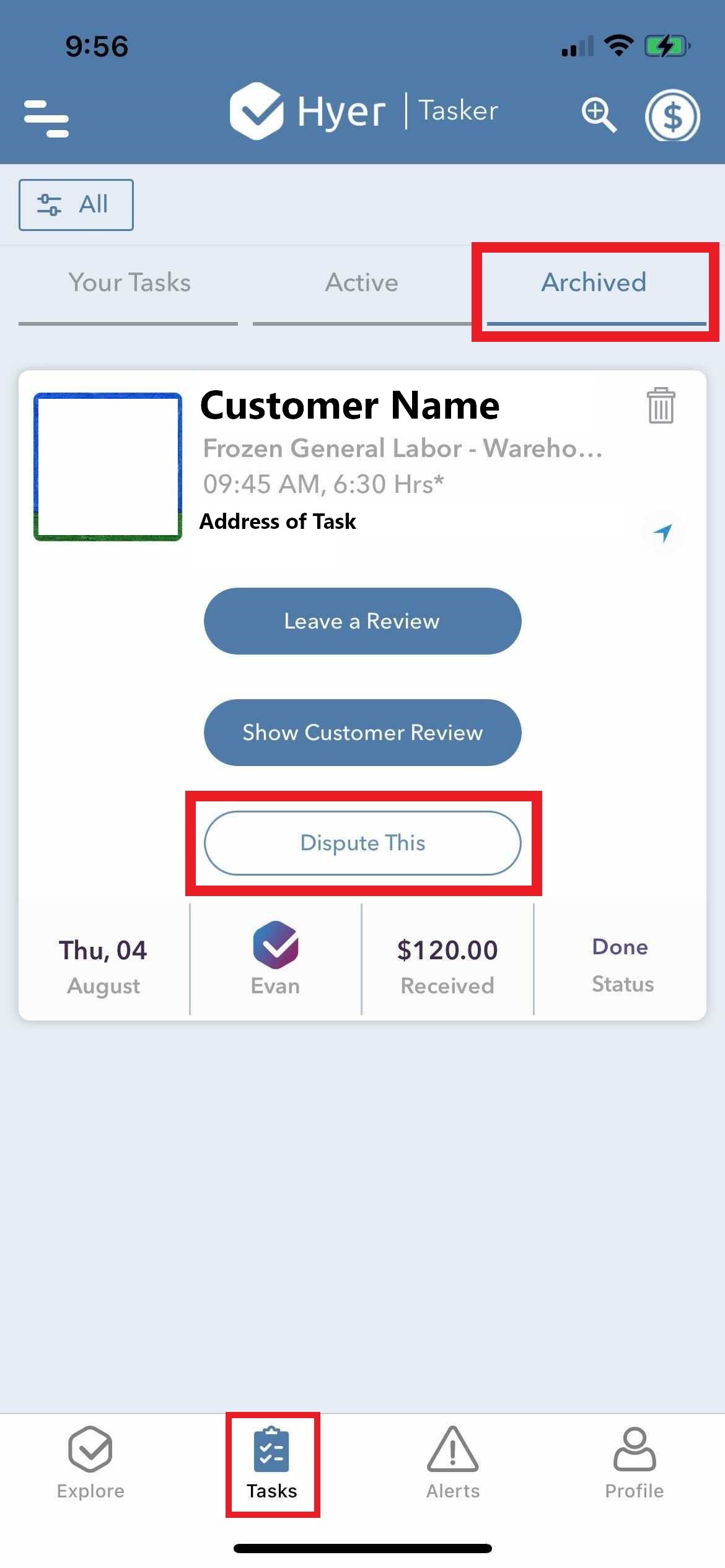 How long do I have to dispute a task?
Hyer policy allows taskers to dispute a task up to two weeks after that task's estimated end date/time.
How long does a dispute take to resolve?
Disputes may take anywhere from 1-5 business days as our team has to investigate your claims with the customer, which may take some time. Depending on the situation, some disputes may take longer.
📌 Note: Disputing a task does not guarantee a change in the amount paid out will occur. Hyer provides the platform for Taskers and Customers to connect, and the Customer controls the amount paid out based on how the task was completed according to the task's detailed instructions. Hyer also cannot guarantee the turnaround time for a dispute as some inquiries may take longer to perform than others.