Editing a task can be done when you go to confirm payment. Please be sure you have the correct amount showing before confirming payment.
When Should I edit a payment?
When a Tasker works less time than what they requested.
When a Tasker works more time than what they requested (happens by accident at times, especially if the manager on site asks them to work more than what was posted).
How do I edit a payment?
If you have certain features turned on for your tasks, you may encounter one or two more prompts to walk through, not shown below.
After you get the alert that the Tasker has requested payment and open it up, you will want to click the purple bubble that says 'Review & Verify Payment.'

Under the 'Confirmation Completion' screen, you will be able to view the amount requested vs. what the task was originally posted for. For easy reference, it will also display in orange font the price difference based on the changes. Once you have either left the 'Actual (Editable)' as is or changed it, you will then proceed by clicking the purple bubble that says 'Review & Verify Payment.'

This next screen will show you one last time the hours and final payment. If you need to change it, you can hit the '< Back' on the top left and change whatever is needed. If everything looks good, select

the purple bubble that says 'Review & Verify Payment.'

The final step is seeing the amount that will be charged to you as the Customer and, when ready, hitting the purple bubble that says 'Send Payment.'

Important to note here that underneath the 'Send Payment' button, there is something that says "

Share Feedback and Send Payment

." If you select this, it will open Hyer Assist and give that Tasker a breach. Click 👉️ here to view when to use Hyer Assist. Only use this feature if you want to breach their account. Do NOT use this feature to leave a positive review/rating.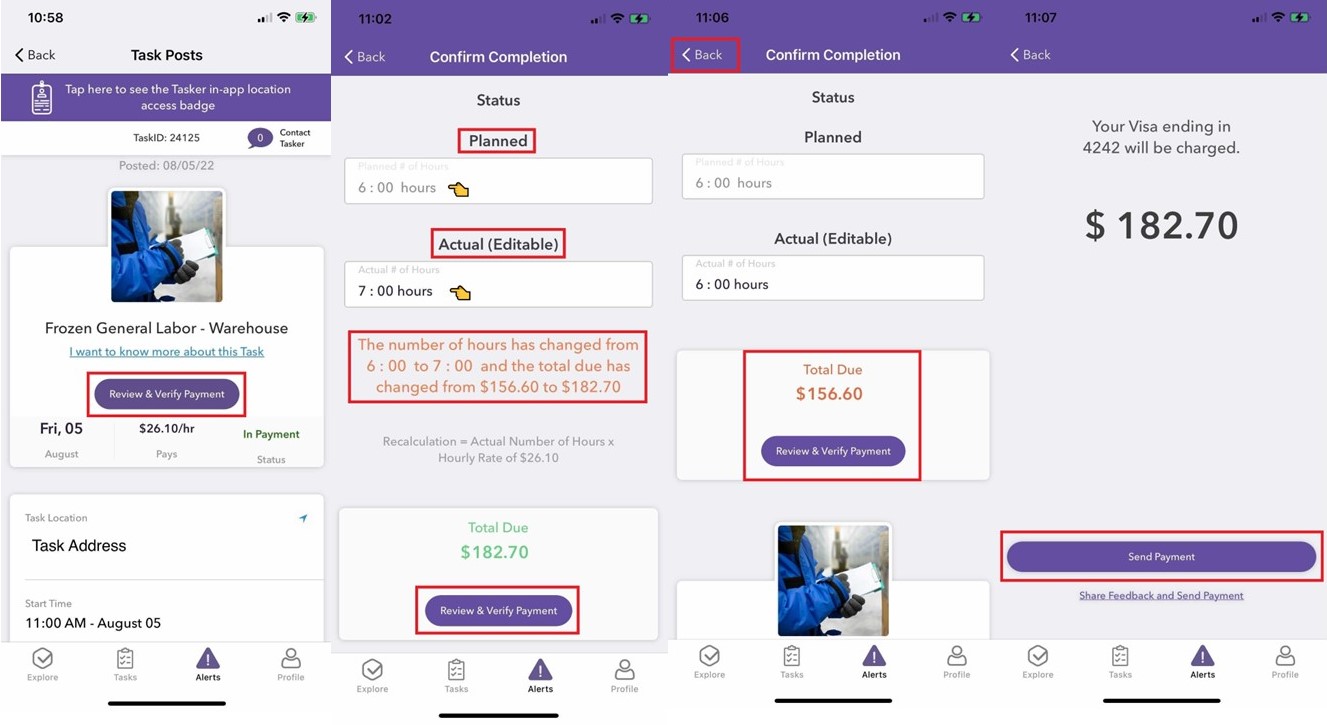 📢️

Important
You are not able to edit the payment after confirming and going through all the prompts. If you accidentally overpay or underpay a Tasker, immediately reach out to your Field Operations representative or Customer Support. Taskers who have Instant Payout enabled may take the funds as soon as they show up in their Stripe account.
Remember that you have up to 24 hours to payout on the task, so if you need to confirm how much time to payout or if there are any discrepancies with what the Tasker requested, you have time to converse with other managers in your organization to ensure the correct amount is paid to the Tasker.