When working with Driveline, it is important to make sure you Check-In/Out when arriving or ending your task. If this step is missed, the customer may have trouble confirming your presence on-site and there is a risk you may not get paid.
! ! IMPORTANT ! !
Within the Hyer app you select:
"On The Way"

"I've Started Working"

"I'm Done"
Your task will automatically close after the Estimated Start Date/Time and will appear in your "Archived Tasks" within the task tab. To avoid any delay in payment or running the risk of not getting paid, you MUST hit all of these prompts within the Hyer app
Steps for Check-In/Out
Step 1: Tasker shows up on-site and signs into a tablet or timesheet (picture below) with their name, start time, end time, and the vendor they are working through. Be sure to Select "Hyer" as your vendor.
Step 2: In the Hyer app, select "I've Started Working"
Step 3: Tasker works their shift. For lunch break, the tasker may be required to sign in and sign out
Step 4: Shift ends, tasker is required to sign out of the timesheet or tablet. For Walmart and Dollar General task types, the tasker is prompted to upload a picture of the onsite timesheet
Step 5: In the Hyer app, select "I'm Done"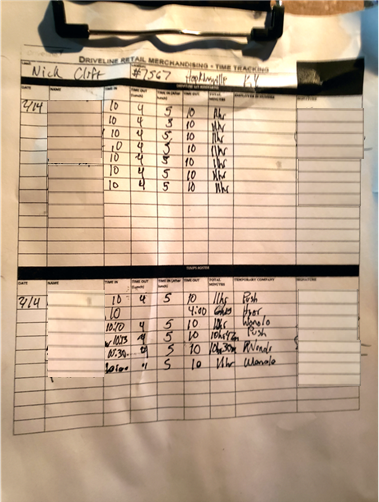 For more information on what an Expired task means, click here: What Does "Expired" as a Task Status Mean?