We are so happy you are a part of the Hyer community! It is important to understand how the application process works. Each task that is posted is opened up to all Taskers surrounding that location. For every task posted, there may be multiple applicants. Each business will post tasks based on its business needs, which can change daily, so be sure to watch the app closely. We are always working hard to match the supply and demand to help you get out there tasking! Here are some things that can help you increase your chances of being selected.
Selecting The Right Profile Picture:
Having the right profile picture helps your profile stand out. Please view this article to see how to take an awesome picture 📸 for your profile! Some Customers may be deterred from selecting you if you either do not have a profile picture or it is not a picture that is appropriate. Group photos, memes, and pictures of children or animals do not meet our guidelines and may deter a Customer from selecting you. To see our guidelines on this, click here.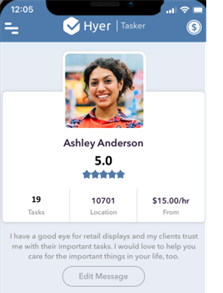 Creating A Profile Message: "About Me" Section
Think of your profile message as a cover letter. Why should they pick you? What are your strengths? 💪Do you have great attention to detail and are always on time? These are great things to note in this section.
Update your Skills, Certificates, and Work Experience:
Complete your profile by showcasing all of your amazing skills and experience. View this article to learn more: How to Update Your Skills and Work Experience
Make Sure Your Notifications Are On: 🔔
It is best to have your Notifications always switched on! Make sure within the app and in your normal phone settings that these are on. This helps you to take advantage of all private task opportunities that are sent to you!
Accept your private offers?
There are times when Customers will send out a private task to taskers in their area (one task sent to multiple people.) They are private offers that can be accepted or declined. Once a Tasker accepts that specific private offer because it was also sent to you, it will automatically move to your archived tasks because that application is now filled. If you are not interested in these tasks, you can simply decline them, and they will be removed from your alerts. If you accept a private offer, that means you are Scheduled to work it, and failure to show up or late canceling this task will result in a breach on your account. You can click here to learn how to see if you are scheduled for a task or not.
Avoid Late Cancellations/No-Shows: 🚫
Make sure that you provide more than 6 hours if you must cancel or can't make it to a task. Frequent late cancellations or no-showing a task will not only cause breaches on your account but can discourage a Customer from selecting you for tasks in the future.
Professionalism and Work Ethic:
Ensuring that when you are selected for a task, you prove yourself as a great worker And create an experience that would make the Customer want to select you again in the future. Arriving late, being argumentative with management, not reading all of the task's detailed materials, and completing the task as instructed may cause the Customer to not want to select you again in the future. Customers may select whomever they wish for their tasks, so ensuring your work stands out goes a long way. Click here to learn how to create a great experience for our Customers!
Adjust Your Filters:
Make sure you remove any filters that may be preventing you from seeing all of the available tasks in your area. Also, check to make sure you have your radius set to 50 miles to increase your search. These filters will appear at the top of the screen when selecting the 'Find Tasks' button located at the bottom of the app.